New iPad 3 Digitizer Replacement!
iPad 3 is here to stay and it is the new technological achievement of Apple. Despite the fact that it is a new brand, we already have calls about broken screen replacements.
Maybe you weren't aware of the fact that if your New iPad 3 has been broken there is a pretty simple way to fix it and make it look completely new!. You don't have to search for a solution because we are able to repair it for you replacing the broken part with a completely new OEM digitizer for your precious iPad 3.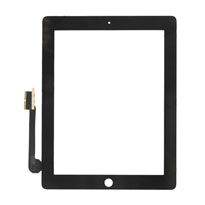 If you had a misfortune and your new iPad 3 fell down and broke then you surely will need such a replacement.
Digitizer Failure Indications:
Your screen isn't responding well
Some spplications will open randomly without even touching your cell
No respons when you touch the screen
Crack or braking spots
Dead spots on the screen
Replace your iPad 3's Digitizer
If you notice any of the symptoms mentioned above, bring iPad 3 to our lab, 50 Ioulianou str., in Athens. Serviceiphones and its high experienced technical team, are able to fix such damages, by replacing the broken digitizer with a new genuine (OEM) spare and a Lifetime Warranty for LCD screen and Digitizer!