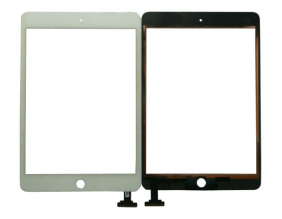 The iPad mini has become your... right hand and you never part with it, as it offers you many choices and applications that render it really valuable in your everyday life.
iPad mini digitizer repair
One of the most important advantages of iPad mini is its functioning with a digitizer, which makes it very easy and quick to use, as you can manage the device by simply touching it. However, what if one day your iPad mini falls to the ground and its touchscreen breaks? Don't panic, as ServiceiPhones is always there to help you.
So, if your iPad mini
doesn' t response to your touch
opens and closes applications automatically
has dead pixels
the touchscreen is obviously broken or cracked
our experienced technicians will perform the necessary check and subsequently will replace the broken and non-functional digitizer with a new OEM replacement part.
And all this quickly, efficiently and inexpensively. We offer a lifetime warranty for our service. You can find our lab at Ioulianou str., 50, in the center of Athens.